Timing it right: Boost sales by doing sales prospecting at the right time
Vaishali Patel
Sales prospecting, if done at the right time, can significantly boost your lead generation rate that.
Talk about sales prospecting and most companies would talk about marketing techniques they are employing for the same. Amidst all the complex theories that businesses try to fit into their strategies, they often miss a simple yet important aspect of sales prospecting – the best days and time for it!
Yes, as simple as it may sound, there is much data on these parameters that can provide you with the perfect time to make contact with your prospective customer. A study conducted by MIT and InsideSales.com analyzed data of six companies spanning three years. It constituted 15,000 leads and 1,00,000 phone call attempts and arrived at these data points.
Best Days of the Week
Wednesdays and Thursdays are as the best days for lead generation, while Tuesday is the worst day! In fact, Thursday fared 49.7% better than Tuesday.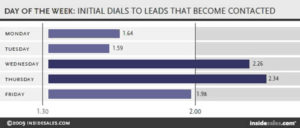 Best Time of the Day
The best time of the day for a phone call for a prospective business opportunity is 11:59 AM. Yes, there is early morning rush to complete the operational jobs and then it seems that people do not like to make any decisions before they leave for lunch. So, this time is the time when prospects have done the major work of the day and their mind is getting ready for the lunch break. So, at this time, they becomes more receptive to talk to someone. It is, therefore, the best time to catch their attention.
The time slot between 4 PM to 6 PM also showed 114% better than the 11 AM to 12 NOON slot. Evenings are also more relaxed, and especially, Thursday evenings seem even more favourable since the weekend is drawing near.
Early morning and late evening hours also emerged as good times to call, which means that you either catch your prospect early, before he starts working, or later, when the work of the day is over. However, both are subject to the mood and the work pressure of the prospect.
Voice mails can be best left between 7 AM to 7:30 AM, as checking these would feature in the day's work for the prospect and you would not end up disturbing him.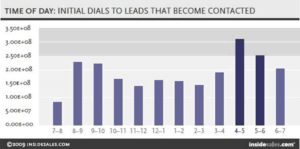 If you have heard that timing plays an important role in sales and marketing, here are data points that prove it. However, sales prospecting is also about accuracy. Accuracy means both in finding the right sales prospect as well as getting the accurate message across to the prospect at the accurate time.
Conclusion
You can increase the productivity of your sales prospecting team by targeting the prospects at the right time. You will not just get better leads, but will also end up saving a lot of man hours of your sales representatives every day!